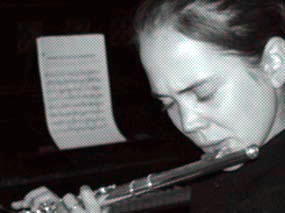 Dear Visitor!
Welcome at the site of the KvarTonus jazz group!
Date changed! Date changed!
Our next concert will be at the Fogasház on 10th October, with our duo.
Entry free.
The concert at CD FŰ teázó-pálinkázó kultúrpince was really succesful.
Thanks for those, being there. Photos soon, hope.

On 4th of April, 2009 we'll play on the Budapest Fringe+ Fesztivál as an invited jazz group :)
Our guest will be Tamás Sándor Geröly, who will help us with drums and percussion.
We hope, we'll make a conquest of a jury this year...
Entry free of charge.
Everybody welcome!


About the Group About the Musicians
Contact:
vrslszl@gmail.com
eszter.strausz@gmail.com
Eszter Strausz (flute), László Vörös (piano), András Csizmás (doublebass), Dániel Horváth (drums)